"At that time Jesus said, 'I thank you, Father, Lord of heaven and earth, because you have hidden these things from the wise and the intelligent and have revealed them to infants; yes, Father, for such was your gracious will. All things have been handed over to me by my Father; and no one knows the Son except the Father, and no one knows the Father except the Son and anyone to whom the Son chooses to reveal him."

(Matthew 11:25-27)
Today's Gospel reading stimulates and affirms the thoughts while drywall mudding in Te Deum House. Yes, I have been pondering the growing reticence to anything but what is simple--especially in the spiritual life. It is not like me who used to take on the spiritual journey by trying any challenging physical or intellectual project, devotion, book, ascetics.
Somehow, the above words of Jesus are a balm of simplicity. It is not that I don't think or can't think, or that I cannot read challenging books or carry on intellectual conversations, or study complex rules of life or know various "paths" in prayer, requiring various steps and guidelines.
The problem is, if a problem: All that now wearies me. In fact, it kind of makes a sickening stir in the stomach, and before long I am resting in bed or doing some simple, fun task like conversing with His Real Presence in the gardens to dispel the heaviness of the other.
It is not at all that the complex, intellectual, detailed, erudite, learned and researched ways of prayer and journeying to God are wrong or bad. They simply sicken me; I get drained thinking about them, and when I see something lengthy with many components, rules, listings of steps of procedures, I have to stop reading. My heart-thoughts develop clogs in the brain. It seems best to read the marvelous books simply to enjoy them--because they connect us to His Real Presence in some way or other.
Recently I was wondering if I was losing my faith! Had I become lax and rude regarding certain practices, prayers and programs said to be the way to holiness? There are many blogs which go into these practices--how-to-be holy required lists and guidelines.
I recall reading a letter of St. Therese of Lisieux, and laughed when she wrote she'd rather wear a hair shirt than pray the rosary. As it turned out, her spiritual director realized she was praying more intimately in a contemplative way and was not at the level of the verbal and meditative repetition of the beautiful rosary prayer. What seemed a problem was not at all, and surely Mary was pleased with the intimate conversing Therese engaged with her and with her Son.
Then the thoughts of Brother Lawrence in practicing the presence of God. He was a lay brother cook, a simple man whose education lacked but whose faith and love of God was like a shooting star, heavenward. He said that at a certain point, best to have God be one's spiritual director.
A friend emailed a bit ago. She and I finished our reading of Elizabeth of the Trinity's life. She has signed up for a diocese program to be consecrated to the Heart of Jesus through Mary. She had to purchase a book and a workbook. It is a 33-day consecration based upon St. Louis de Montfort's written thoughts of Mary and his act of consecration.
My friend is burned out on the third day. She finds it forced, intense, methodical, burdensome; plus she was not pleased with the cost of the materials they were told must be purchased for this consecration. She shared with me that the complex content seems to get in the way of her otherwise intimate and pleasant relationship with the Mother of God. However, she keeps praying that somehow she will make it through the program and will be consecrated to Mary.
I suspect she already is.


However, a decade ago I was quite intent on strictly following the 33-day consecration prayers and offerings, meditations. I utilized St. Louis de Montfort's writings: a small booklet for under $4. While I have St. Louis' book of extensive love-writings and insights about Mary, I have read about half. It remains with the bulk of my books, packed in some box in the pole barn, bookmark inserted where I left off.
Inspired by my friend's effort in the diocese program, I decided to re-consecrate myself to the Heart of Jesus through Mary, although I figure (and my spiritual father agrees) that once consecrated, it's a sealed deal: my heart in His. However, I'd like to honor Mary as well as commemorate her Queenship which this year happens to be the 30th anniversary of my life-altering car-accident and 19th anniversary as a Catholic, and 12th anniversary since my last child left for college. All these happened on August 22.
But what to do? Certainly, it must be something very simple. I am too far behind or beneath the difficult, the taxing, the intense, the costly materials. One thought is to just do something every day regarding Mary's aid in falling in love all the more with Jesus, whatever she brings to mind. Another is to read daily a little prayer that a woman gave me when I became a Catholic. I used to babysit her children, and I always admired this woman--perhaps due to her Mary-likeness.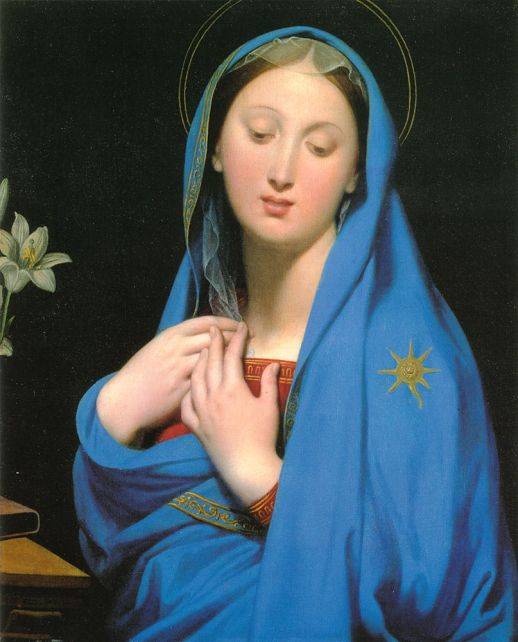 The poem is called "Mary Like-ness." It is a prayer poem she had to memorize when a child in parochial school. I would love to be more Mary-like, frankly. While mudding this morning, I wondered if Mary did stuff like that? Did she help with the building of her stone house in Ephesus? Did she make the stone stations of the Cross that legend says she had in her back garden and where she would linger and meditate on the life and death of her Son? I'd like to think so, although being a woman in that culture at the time, perhaps not.
I have been praying for a friend's friend who killed himself on July 7. He had horrible pain that so altered his life; he lost hope and purpose. God bless him! I wrote to my friend how sorry, but that I know first-hand how pain can alter our minds when it gets out of control. Jesus knows! He Is Mercy!
Then a friend emailed and asked me to help pray with her for a woman who is in a coma. She passed a semi-truck and was struck by another semi-truck that evidently did not see her. Ironically, her name is the same as a woman who came to mind yesterday afternoon while mudding the drywall. Terry. For that Terry, since I'd not had her come to me in thought for quite awhile, I realized she or someone in her family needed prayer, so I let each person kind of flow through my being in a type of blessing greeting and benediction. God's will be done.
I will let his Real Presence guide my thoughts on Terry-in-the-coma. I am also going to send some encouraging thoughts to her, kind of talk with her about how death is so easy and beautiful, but if she is to remain on earth, God will simply send her one place or another. His will be done. Either way, it is all right. In her coma, she awaits.
The memorized prayers are most help- ful, though, and not at all difficult when spontan- eous.
Often, while watering flowers and trees, I pray a Hail Mary, Glory Be, the Lord's Prayer and sometimes the prayer the angel had the children of Fatima pray at the end of each mystery of the Rosary.
As for binding Satan, it is good to command him aloud, or also pray the St. Michael prayer. But now, in whatever verbal or mental praying, I aim to be in the Order of the Present Moment. Whatever spontaneously drifts into the subconscious or the conscious mind...or out the lips...becomes prayer. MERCY, or Dear God in Heaven, or Mary help, or Jesus is enough for me!
I steer clear of formulas. I find that if one simply strives living all for God in the Order of the Present Moment, then certain rituals, postures, repetition, mantras, or routines are not necessary. Some are all right, and I have certainly read many books on such efforts for spiritual progression. But I am discovering as I seek God, what simply helps most is to desire much and to be in love with His Real Presence.
It helps not to be distracted by too much of the world and its concerns, but God can break through noise. If we love Him, we will turn down or cut out what is not God. If we simply know how real God IS, and that His Real Presence is inside our souls having made His abode there, we can easily step inside and join Him any hour of the day, any place, and in any circumstance or activity.
How marvelous, of course, that holy people before us have shared their prayers and their ways of coming to union with God. Some later on in their lives realized more what Jesus was trying to express in the Scriptures. Seems to me, at least at this point in my life: love + simplicity.
Love Jesus and get to know Him intimately, personally, as His Real Presence remains inside our souls all the time, there waiting for us to join Him. Rejoice and rest and find His Real Presence so very simply. Love Him, have faith, and believe!
"All things have been handed over to me by my Father; and no one knows the Son except the Father, and no one knows the Father except the Son and anyone to whom the Son chooses to reveal him."